What you need to know before purchasing professional products from drugstores and department stores...


We found this product at a popular department store a couple of weeks ago and we were so shocked by it that we had to share the story with you.
This Redken Active Express shampoo has been discontinued for AT LEAST 10 YEARS, possibly even more (none of us could recall the exact year it was discontinued). When these large department stores do this, it is called diversion, which means that these companies did not purchase the product from a salon sales distribution company but they have found different ways to purchase professional products, one of the most common ways being, that the product is purchased at auctions when salons go out of business. Diversion is also most common with larger brands of professional product as they are in so many salons and spas that it is virtually impossible to stop it from happening.
When you purchase a product like this there is also a chance that the product has been tampered with and you may be purchasing a mystery product cloaked behind the professional product's image.

When you purchase from your professional service provider, you are guaranteed to be buying product that is fresh and recommended just for you by someone who knows you and your hair/skin. You are also choosing to support that person's own small business and the small business of the salon / spa that they work at.
By purchasing professional products from your service providers at Alise Frederic Salon and Spa you are contributing to their education fund, which keeps them constantly learning and up to date on current products, new techniques and top trends. You also receive loyalty points on all of your retail purchases and more points everytime you try a new product from Alise Frederic Salon and Spa.
Thank you to all of you, our amazing clients for trusting our knowledge, supporting small business and shopping local.
- Janelle
Have you ever wondered what the difference is between an Over-The-Counter skin care product and a Pharmaceutical grade product?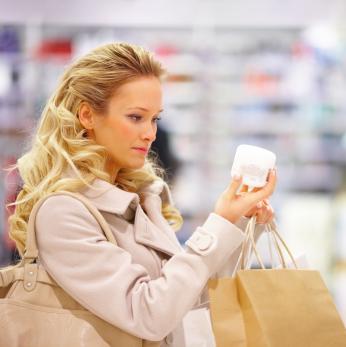 Over-The-Counter products, also known as cosmeceutical grade products, are anything bought in a department, grocery or drugstore. No matter how expensive the product may be, anything purchased through parties, pyramids, or a television channel is an "over- the- counter" product.
Pharmaceutical grade products are a grade of products that can only be purchased from an esthetician, dermatologist, medical doctor or plastic surgeon. These products will definitely make your skin react, which is a great thing! When a product is able to reach the cellular level of the skin you see better results as oppose to a product that simply "skims the surface". However, without the direction of a professional, these products could potentially harm the skin because of their strength. They are in a more concentrated form that is able to penetrate deeper into the skin giving noticeable results.
When using Over-The-Counter products, the 3 most common ingredients that cause irritation to the skin and skin allergies are artificial colors, preservatives and fragrance. These ingredients can also inhibit the effectiveness of other ingredients.
If you purchase your products based on scent, try to find a product that derives its fragrance from essential oils as opposed to an artificial fragrance. Artificial fragrance can cause photosensitivity and over time this can lead to your skin being more susceptible to pigmentation caused by the sun.
All products need to have preservatives to keep their shelf life (and to be sold legally!!) so keep in mind when you are purchasing products that a food grade preservative is always best. Try to use up your product before the given expiration date. A product that you have had for well over a year that is still holding its shape, color and scent, likely has preservatives in it that are doing your skin more harm than good!
- Leanne