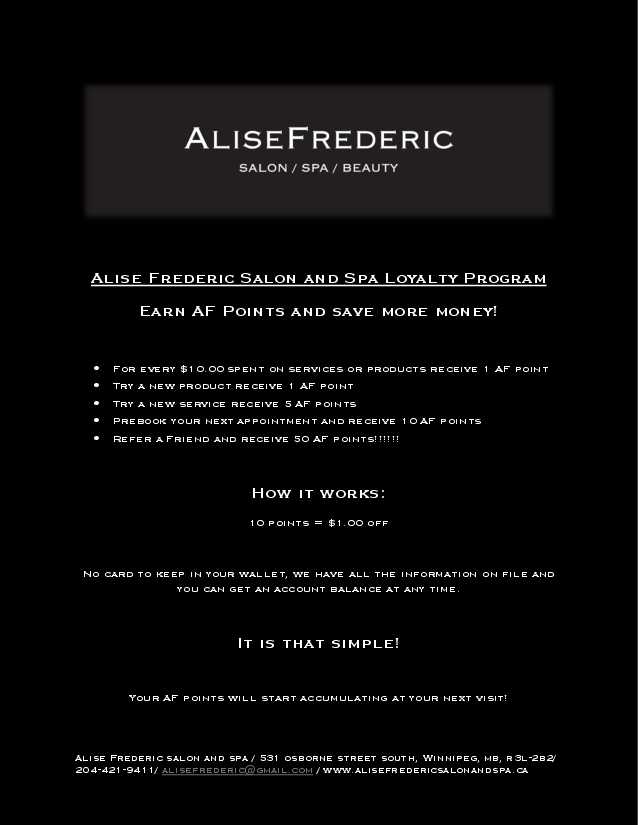 Thanks to everyone who donated to our Hunger For Hope Formula and Diaper Drive! It was a huge success again this year, cant wait to drop it off at Winnipeg Harvest! Congrats Val Sanders on winning the basket, enjoy your goodies! We are now closed until January 2nd for the holidays (select service providers are working on December 31st). Thanks to all of you for your patronage and ongoing support, we have really amazing clients. Merry Christmas everyone and see you in 2014!
Alise Frederic Salon and Spa welcomes 3 new Stylists to our team! Call or email us today to book your appointments with Michelle Pearson, Melinda Campbell and Kelly Einarson. Visit the "Our Team" section of our page to read their bios!
FIRST TIME VISIT PROMOTION..... Because we want to see all of our clients save money, new clients AND our loyal returning clients we're inviting everyone to receive 15% off their first visit to the salon! We are extending this offer to any existing salon client's first visit with Michelle, Melinda or Kelly.
| | |
| --- | --- |
| | 531 OSBORNE STREET SOUTH, WINNIPEG, MANITOBA | 204.421.9411 |